Recently, on our LIVE show "Work In Progress" we spoke with Reno Collective member, writer, and researcher Ashley Warren of Scribemind who spoke with us about her experiences managing her creative side-hustle while also working a full-time job. Ashley, who is a long-time member and collaborator of the Reno Collective, has been balancing the two for years and shared with us some of her insights and hard-earned experiences she's gained along the way. Watch here.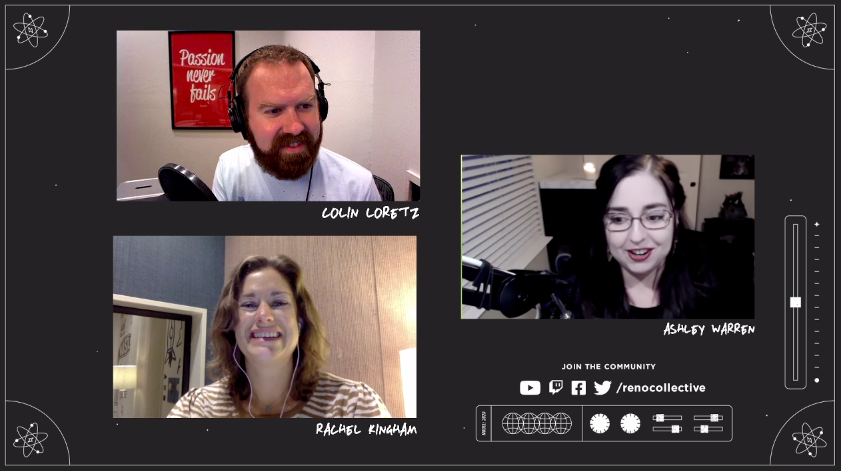 Now, Ashley will be the first to tell you that not all processes work for everyone. She's spent over a decade fine-tuning the systems she uses today to keep herself organized, motivated, and especially on the other side of burnout. She is a full-time remote employee and schedules her side-hustle work around those hours, which means she puts in her time on evenings and weekends. In her own words: "Sometimes, this means that I work 60 hour weeks, which can be a lot. But most of the time, I don't feel overworked, thanks to my tried-and-true systems; I feel happy and fulfilled and eager to do new things!" Told you - inspiring :)
So, take a listen to the episode and share your thoughts: are you trying to work the full-time / side-hustle life? Have you found systems that do - or don't - work well for you? Trying to figure out where to start? Ask away, because we are here to help you find the answers to those questions.
If you find yourself inspired as we did, venture on over to Ashley's blog post on this same topic for even more insights. You can also catch her on her own Twitch stream.
Don't forget to catch our show "Work In Progress" LIVE at 5pm every Wednesday on Twitch, YouTube and Facebook Live: Work In Progress, the show about life, work, and everything in between, brought to you by the Reno Collective.