Music. I suppose there are those who prefer the sound of silence, but I am absolutely a music lover. Music inspires, it carries us through hard times, celebrates the good times, calms us, and excites us. But what happens to all the music that gets started out as a beat in someone's head but never makes it to the finish line of an actual song? Enter Allison Clift-Jennings and Ethan Clift, founders of Tonic Audio Labs and the creators of Lumos.
[caption id="attachment_5572" align="alignnone" width="300"]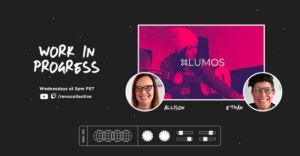 Work In Progress presents Allison Clift-Jennings and Ethan Clift, the creators of Lumos.[/caption]
Lumos is a songwriting collaboration tool. Using the built-in microphone or line-in input, you record the sounds you have created and Lumos will help you with finding alternative chords, analyzing rhythms, or even blending styles of existing recordings. You can even collaborate with others directly from the device!
Allison and Ethan are getting ready to launch Lumos via a Kickstarter campaign in February and sat down with us to chat about everything from the first ideation of the device, decisions over hardware versus software, the physical development of Lumos, what types of AI and smart processes go into making it, and why they chose Kickstarter as their launchpad. You can stay up-to-date with them via their blog, or join the Lumos community on Dischord and actually get involved in the collaboration process.
So, if you are a musician, a songwriter, or a creator with a really cool product idea that YOU want to get off the ground, take a listen to our recent Work In Progress episode with Allison and Ethan and get inspired to make!
Enjoy!