The 3rd Friday of every month at the Reno Collective is set aside as a free day of coworking for the Reno community. This is your chance to get out of the house and mix up your work routine. It's perfect for remote employees, freelancers, side-hustlers, startups, and aspiring upstarts. 
FOCUS Friday is one day a month, set aside to focus on your business
Kick the day off with our monthly featured speaker
Jump into a productive day of coworking with like-minded people - on us!
We provide the inspiration, you provide the focus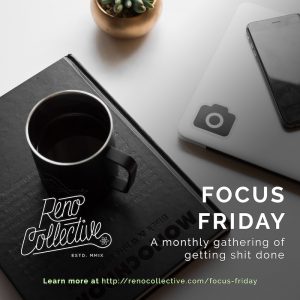 YOU ARE RIGHT FOR FOCUS FRIDAY IF:
You have an idea for a project that you want to tackle but "can't find the time".
You want to be a part of a community of other creatives and entrepreneurs.
You are looking to push your career, startup or project to the next level.
You believe that additional accountability would help you accomplish your goals.
REGISTER FOR FOCUS Friday TODAY!
By participating in FOCUS Friday you are setting aside one day a month to focus on your business. What do you need to work on? 
Writing your new 2020 marketing plan
Coming up with a new business model
Developing your next project pitch
Getting feedback on one of your projects
---
MONTHLY FOCUS SPEAKER SERIES
Our monthly guest speakers will offer insight into building resiliency, forming and maintaining new habits, growing your business, etc.
September 20th | 10:30am: Mindful Communication A one-hour session dedicated to exploring communication, led by Colleen Camenisch who has been teaching Mindfulness Based Stress Reduction (MBSR) programs along with other meditation courses for eleven years. Participants will do an active listening practice and, if space and time allow, will also do an Akido-based communication exercise. This session will include time exploring challenging communication and the chance to learn a walking meditation. The practices presented allow participants to learn how they can apply mindfulness to communication.