It's not every day that we get to pat ourselves on the back - but right now, we absolutely are! Last week, March 28th, Reno Collective was recognized as the Professional Services Organization of the Year at the 12th annual NCET Tech Awards and we are PSYCHED!!!
It is an honor to be recognized for the hard work (not to mention the blood, sweat, and tears it takes to build all. of. the. IKEA.) that the Collective founders and staff put in each day to create a space that serves the needs of the diverse independent workforce in Reno and beyond. Sometimes we succeed (Accountability: Coworking-style) and sometimes we fail (oh, yes, Procrasti-planning happens.), but we haven't quit and that is because of our members and our community.
Now, you might be thinking "coworking as a service?" Damn right we are! The Collective is not just a workspace with conference rooms and free amazing coffee, we are a hub of knowledge, a resource for independent workers, a base for creatives and...well, you get the idea :)
"...provides professional services and which has successfully advocated for and supported Northern Nevada's technology community and has demonstrated leadership and innovation in that field."

Professional Services Organization of the Year award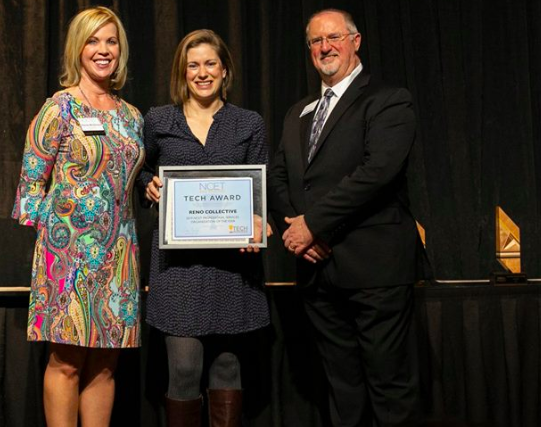 Reno Collective's Community Manager Rachel Kingham (middle) with NCET's Renee Pickens McGinnes and Dave Archer.
In the decade since the Reno Collective's humble start in a downtown coffeeshop, we have hosted more than 1,000 community leaders, business owners, startup founders, creative professionals, programming whizzes, marketing mavens, and social media experts, not to mention the archaeologists, the videographers, the game-changers, the students and even one clown(!)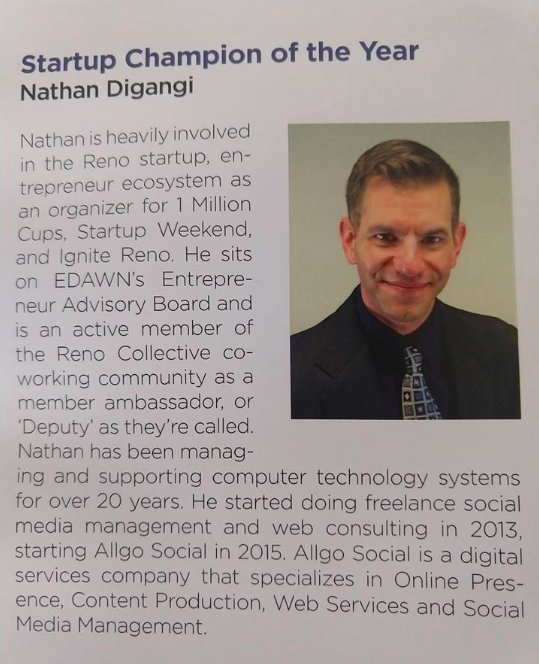 And not prone to tooting our own horns - we want to also recognize one of our own Reno Collective members, Nathan Digangi of Allgo Social, who was celebrated as Startup Champion of the Year by EDAWN, an award he definitely deserves as a person who plays an integral role in our local Startup and entrepreneur ecosystem. CONGRATS NATHAN!!!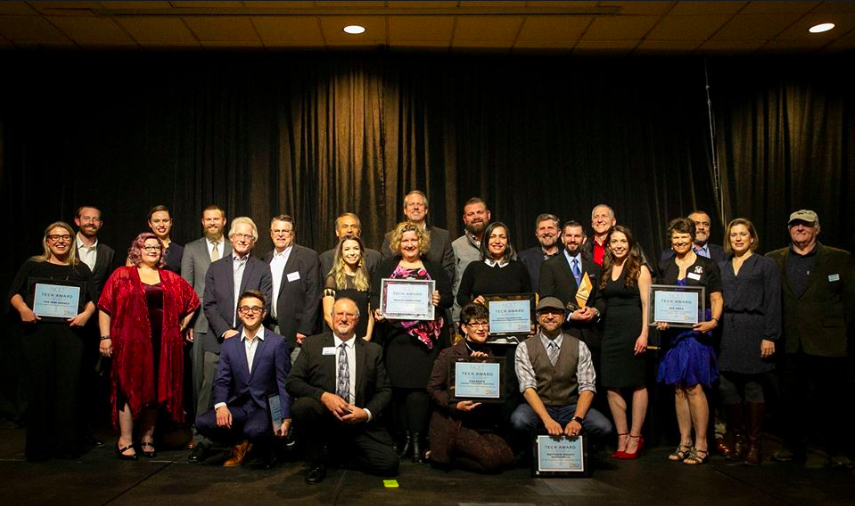 The winners of the NCET 20th Anniversary & 2019 Tech Awards Gala.
And CONGRATS to all of the other winners of the NCET 20th Anniversary & 2019 Tech Awards Gala. We are certainly in great company!!